Recognising our
People
This has been our most successful year yet. We welcomed four new Chief Investigators: Professor Jonathan Roberts, Dr Matthew Dunbabin, Dr Niko Sünderhauf and Associate Professor Tat-Jun Chin.
Alex Zelinsky, Chair of our advisory committee, was admitted as an Officer of the Order of Australia (AO) in the Queen's Birthday Honours in June 2017. This recognises his remarkable achievements throughout the course of his 30+ year career. Alex is currently Australia's Chief Defence Scientist and head of the Defence Science and Technology Group.
Dr Alex Zelinsky receiving the Order of Australia from The Governor-General, His Excellency General the Honourable Sir Peter Cosgrove AK MC (Retd). Image courtesy of Eddison Photographic Studios.
Hugh Durrant-Whyte, a member of our advisory committee, was awarded the prestigious MA Sargent Medal by Engineers Australia's Electrical College Board. The award is named in honour of Dr Michael Anthony Sargent, an outstanding Australian electrical engineer. Hugh is the Chief Scientific Advisor, Ministry of Defence, United Kingdom. He is on leave from his role as a Professor and ARC Federation Fellow at The University of Sydney.
Professor Hugh Durrant-Whyte receiving the MA Sargent Medal at the Engineers Australia Awards Ceremony. Image courtesy of Engineers Australia
Associate Investigator Dr Anders Eriksson was awarded an ARC Future Fellowship valued at over $800,000 over a four-year period, to undertake research in the fields of computer vision and optimisation.
Anders' research will have a significant impact on the design of numerical algorithms for solving a wide range of problems in computer vision, virtual reality and robotic navigation.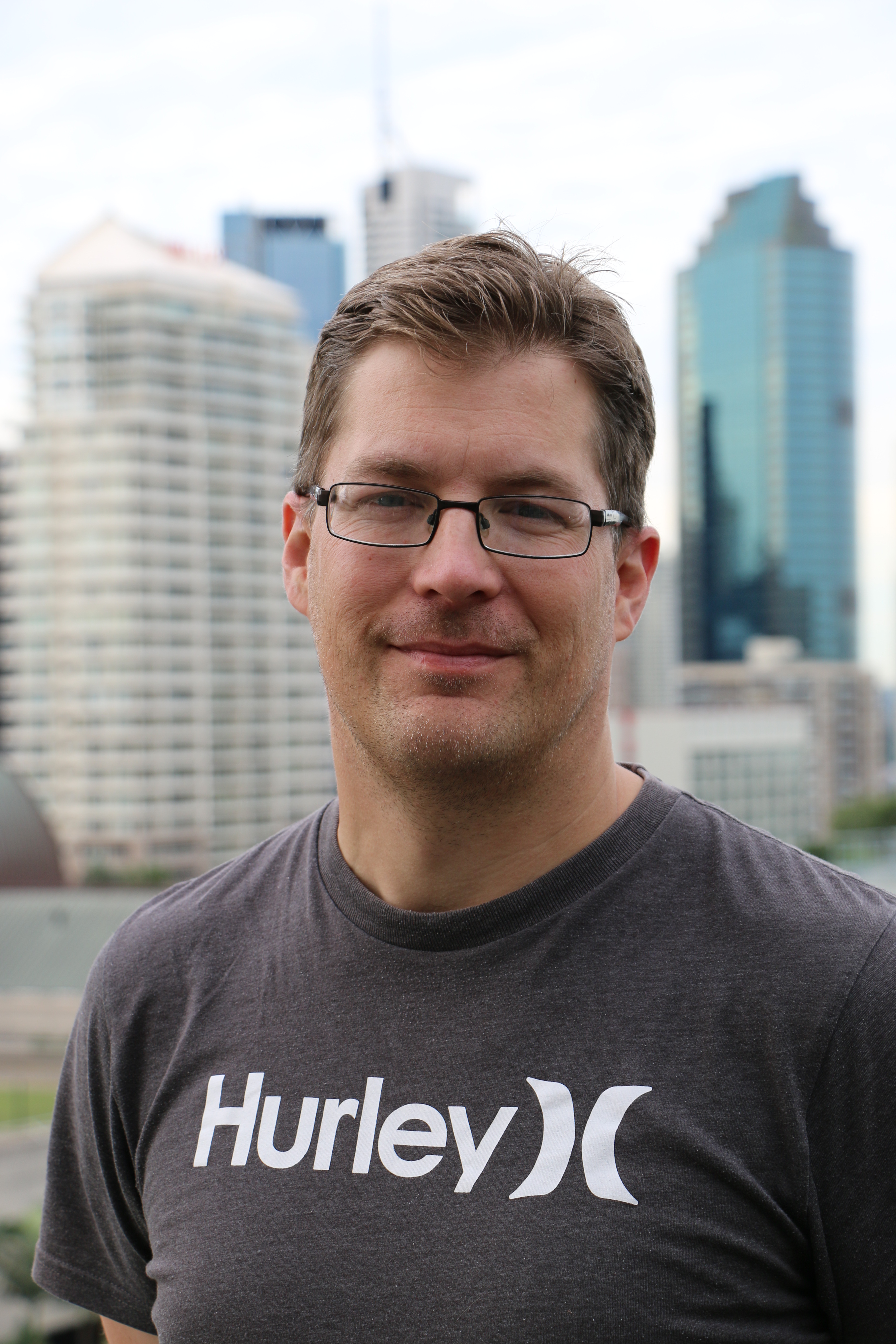 Professor Andrew Davison,
Partner Investigator Professor Andrew Davison, from Imperial College London, was elected to the Fellowship of the Royal Academy of Engineering (RAEng), one of the highest honours an engineer can receive in the UK.
Andy and his team at Dyson Robotics Lab are leaders in the field of real-time 3D computer vision.
In December, Centre Director Peter Corke received the 2017 Australian Teacher of the Year award. This recognises his transformational contributions to robotics education at QUT, and his highly accessible online learning activities and resources which have led to a real-world, project-based curriculum, open-source software platform, a series of Massive Open Online Courses (MOOCs), publication of a textbook, delivery of popular online lectures and the establishment of the innovative online Robot Academy. Peter was also admitted as a Senior Fellow of the Higher Education Academy (HEA), an independent, not-for-profit organisation committed to world-class teaching in higher education. In November, Peter was elected as a Fellow of the Australian Academy of Technology and Engineering (ATSE) in recognition of his many contributions to computer vision and robot navigation.
Centre Director Peter Corke receives the "2017 Australian University Teacher of the Year" award from the Australian Government's Department of Education and Training. Image courtesy of Phillipa Carr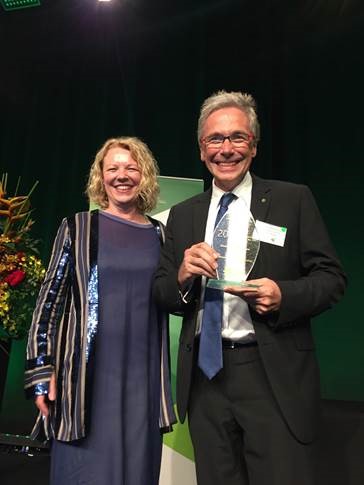 Centre COO Dr Sue Keay founded Australia's first Women in Robotics group and was named a Superstar of STEM, promoting female role models in the field of Robotics.
Dr Sue Keay, Chief Operating Officer. Image courtesy of Tim Macuga
Centre Research Affiliate Anjali Jaiprakash was acknowledged by Robohub as one of the "World's 25 Women in Robotics you should know about". She has also been featured on MIT Technology Review's 2017 list of ten outstanding innovators under 35 Asia Pacific. The list highlights the region's most creative and bold young inventors, entrepreneurs and researchers, celebrating the rising stars that have dedicated their careers to purpose-driven innovation.
Anjali was also named Queensland Young Tall Poppy, honouring her for excellence in the field of medical robotics, where she is developing a vision-based robotic leg-manipulation system for knee arthroscopy and a retinal diagnostic system to detect the early onset of blindness.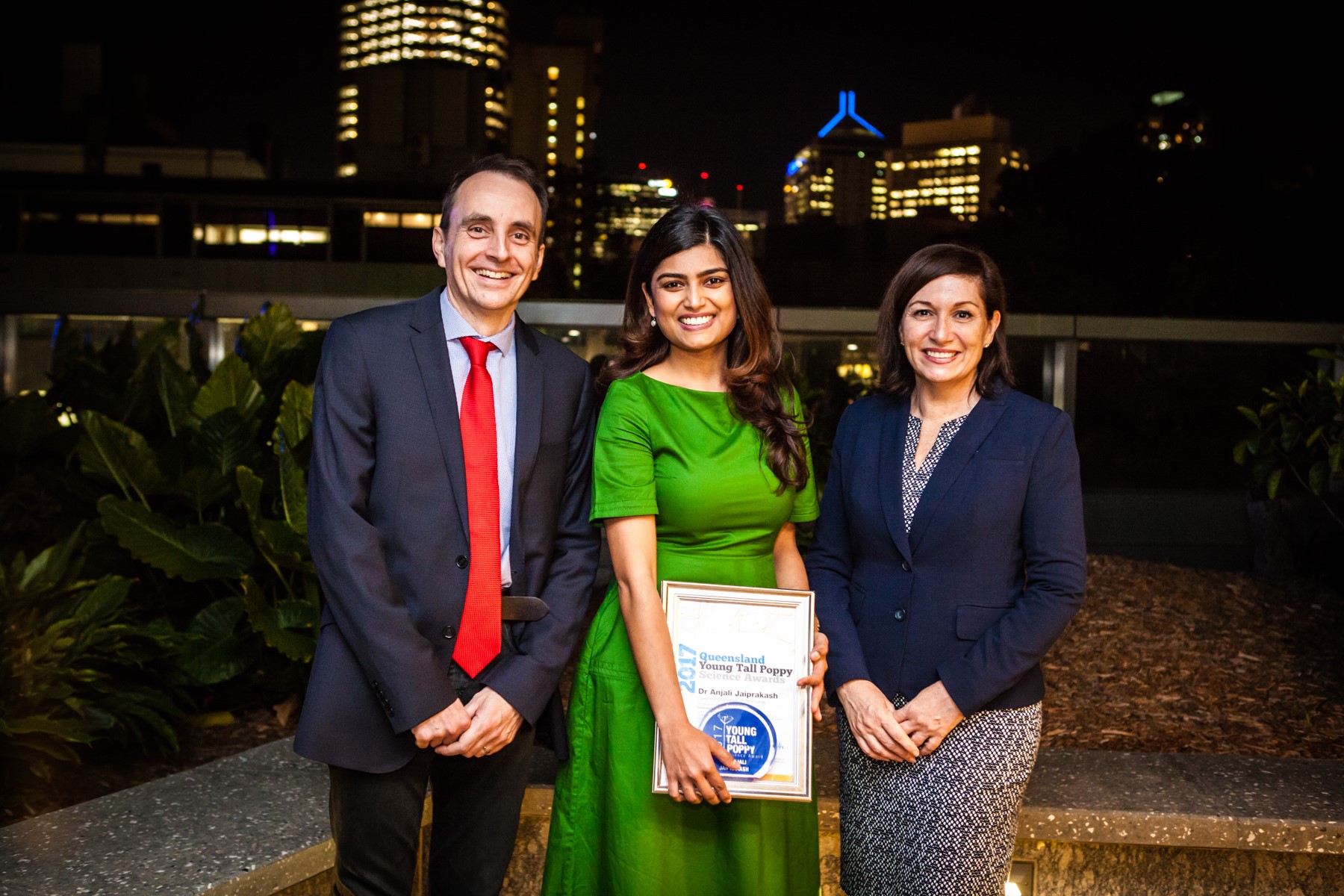 Dr Damien Teney and Professor Anton van den Hengel
Dr Damien Teney and Professor Anton van den Hengel of the University of Adelaide, along with Centre PhD researcher Peter Anderson from ANU and their team, placed first in the VQA 2.0 challenge. The challenge gives participants an image and an accompanying natural language question about it, which their AI system must provide an accurate natural language answer.
Anton and his team at the Australian Centre for Visual Technologies also won the South Australian Science Awards' Excellence in Research Collaboration prize, for their work in developing a world leading intelligent medical device, with LBT Innovations Ltd. The awards showcased the critical importance of science and research for the development of industry and our society.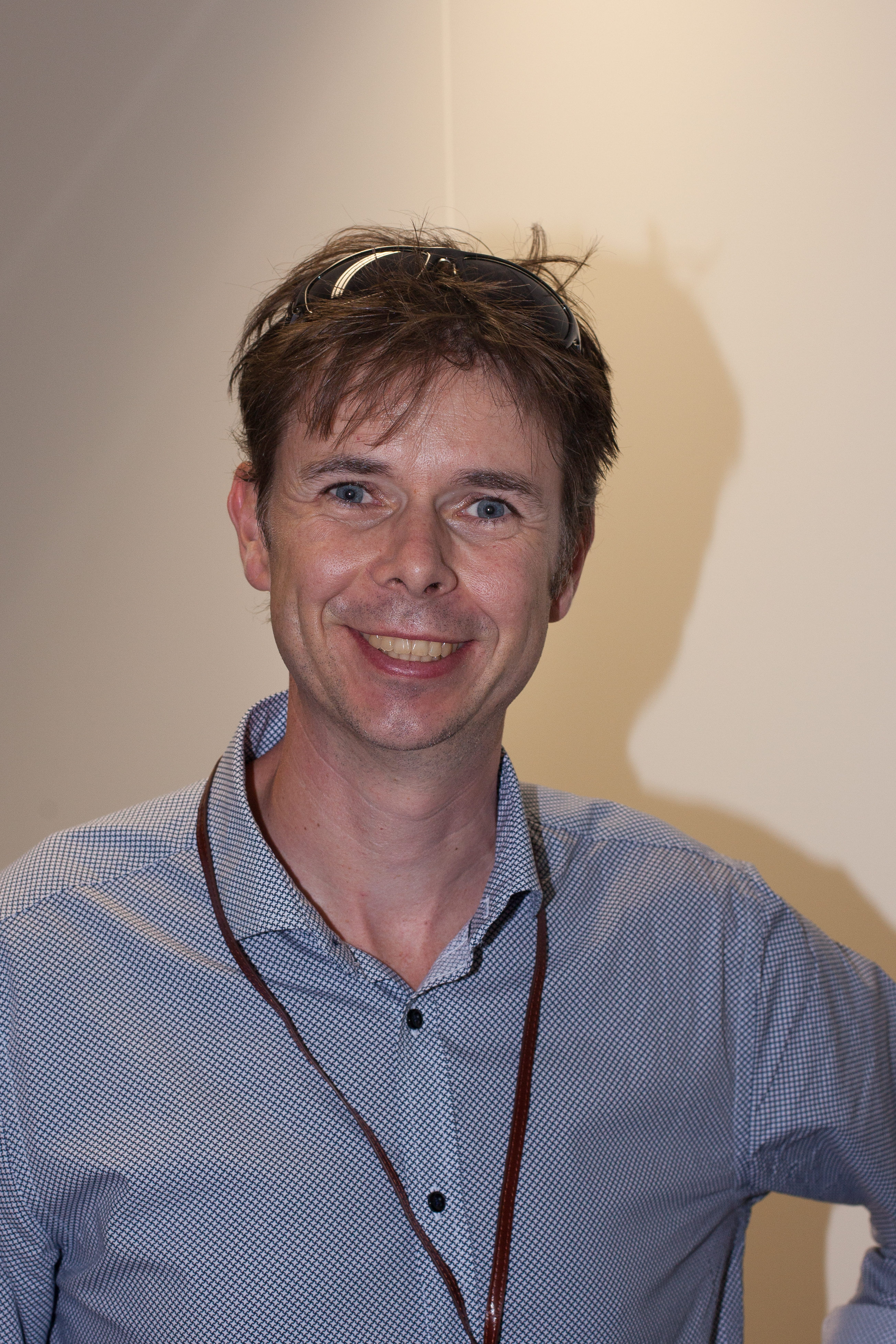 Other esteem measures garnered by Centre researchers
CI Michael Milford

was promoted to Professor

Centre Director Peter Corke

was awarded the title of Distinguished Professor by QUT, recognising his truly outstanding achievements in the emerging field of Robotics. QUT's Vice-Chancellor

Professor Peter Coaldrake

acknowledged Peter's accomplishments as an enthusiastic and innovative teacher of undergraduates, through to an influential researcher on the international stage.
Research Fellow and SR1 Project Leader,

Dr Basura Fernando

won the Best Reviewer Award at 2017 International Conference on Computer Vision (ICCV), held in Venice, Italy.
Research Fellow,

Dr Anoop Cherian

received the Outstanding Reviewer Award at the 2017 Conference on Computer Vision and Pattern Recognition (CVPR), held in Honolulu, Hawaii.